BayesiaLab Professional — Prepaid Elastic Licensing
Prepaid Elastic Licenses

 

provide on-demand access to

 

BayesiaLab Professional

 

to anyone in your organization anywhere in the world.
It offers the ultimate flexibility in software licensing and allows you to scale up or down your BayesiaLab usage as required by projects.
Any hours you purchase can be used by your teams anywhere in the world. So, whether it is one analyst working for 50 hours or five analysts working for ten hours each, the BayesiaLab usage would be the same.
With

 

Prepaid Elastic Licenses, the BayesiaLab software always remains installed locally on the end-user's computer.
An Internet connection to the

 

Global Bayesia License Server

 

is required whenever users run a BayesiaLab session or when they check out a license for offline use.
Usage hours that are purchased as a

 

Prepaid Elastic License

 

will remain valid for 12 months from the date of purchase.
Any unused usage hours will expire at the end of the validity period, i.e., any unused hours will not "roll over." 
---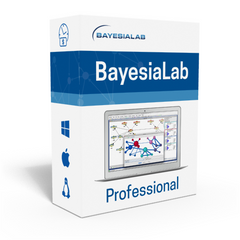 From $ 1,450.00 (USD)
$ 1,450.00 (USD)